There is nothing more frustrating than having to deal with a stuck garage door when you are in a hurry. The good news is that the problem can be resolved effectively and without much effort. You just need to identify the cause and act accordingly. You will not have to do anything complex to fix the door like providing garage door motor repair, for instance.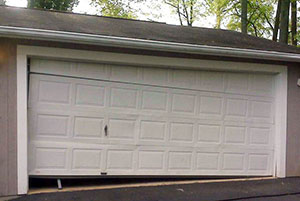 Causes and Effective Solutions
The most common cause of a stuck door is obstruction to some of the moving parts. You should check the garage door rollers, tracks and rails. In some cases, dirt gets accumulated inside the tracks and rails or onto the rollers and this prevents proper movement. In such a situation, proper cleaning is the solution that you are looking for. More rarely, pebbles may have got stuck on the tracks and rails. They have to be removed carefully.
The problem may come from the garage door tracks as well. Check to confirm that they are properly aligned and that there is no bending or another kind of deformation. Inspect them for damage as well. If the tracks are misaligned, you need to readjust them by tightening or loosening specific bolts. When the tracks are bent or damaged, replacement will be required. The professionals from our garage door repair company in Malden recommend that tracks are lubricated on a frequent basis so that sticking door and similar issues are prevented.
In winter, the most common cause of the problem is the freezing of the bottom part. It is literally stuck to the concrete floor. In this case, you need to use a heat gun or a hair dryer to melt the ice. Just turn off the garage door opener first and then get the work done. It is crucial that you do not use a sharp object for breaking the ice as this may cause damage to the bottom seal and to the panels.